Partner Spotlight: Love Shack Compassion Ministry
A safe and clean place to lay your head at night and a kitchen with nutritious food waiting inside may be a simple part for many of us in our daily lives, but for over half a million houseless Americans, these things aren't a guarentee.
Meet Marvin, a kind and gentle man who has called the streets of Portland home for the last ten years.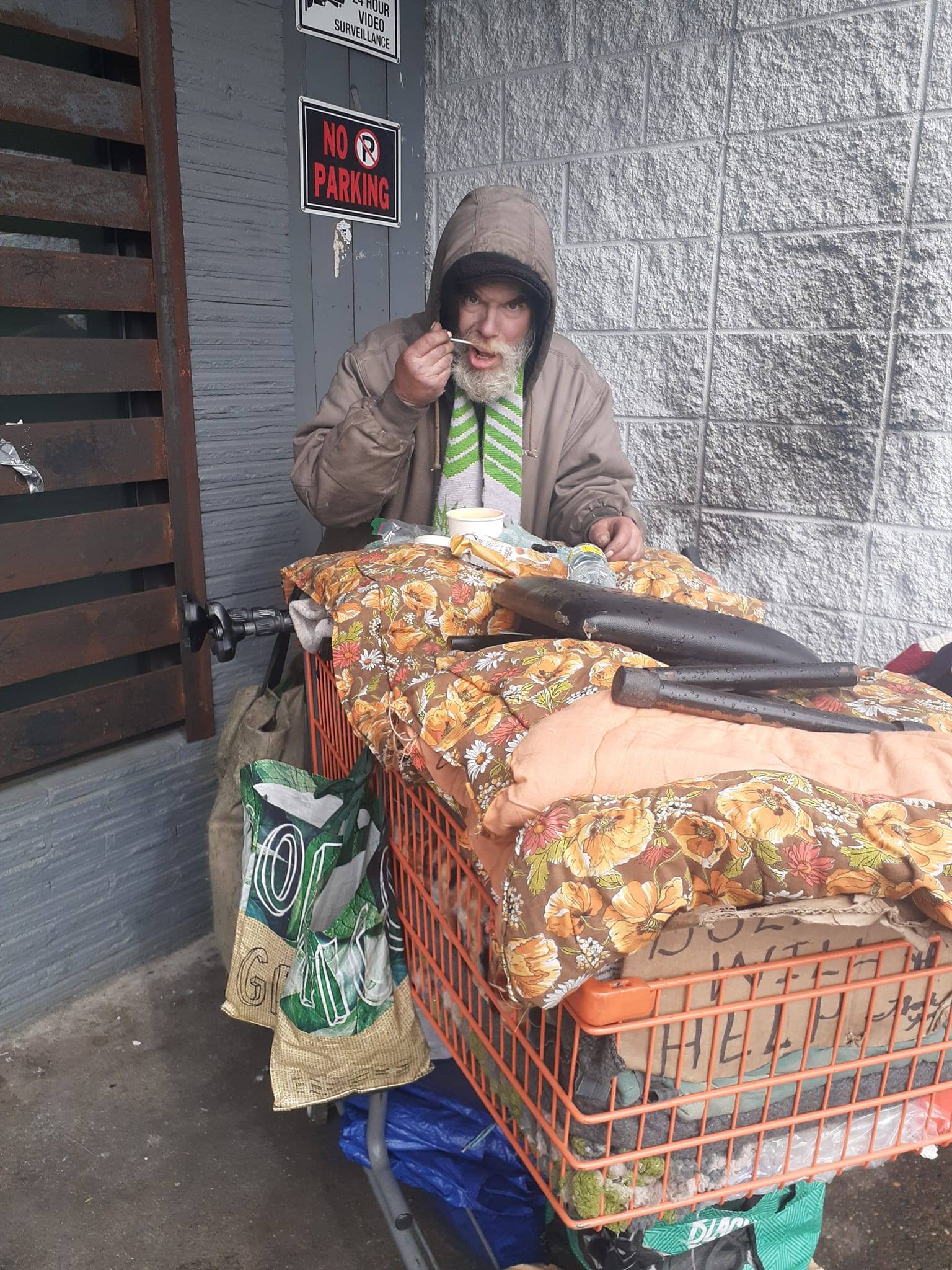 His bedroom is an old mattress he lays out every night and neatly puts away every morning. His kitchen is a reusable bag he hangs off his cart with which he carries the rest of his belongings.
One of our Buy One, Give Ten partners, Love Shack Compassion Ministry, met Marvin at a laundry at a local laundromat that they hold every other Tuesday to help community members in need wash their clothes, bedding, and other laundry.
One of the volunteers at Love Shack interviewed Marvin to learn more about his story:
Volunteer: How do you stay warm at night?
Marvin: Sometimes I burn alcohol. I keep my mattress and sleeping bag near and put two large umbrella's over me to keep in the body heat and stay dry in the rain.
Volunteer: What is one thing you would want people to know about you and your life?
Marvin: For 17 years I needed a hip replacement but was concerned I would not survive the surgery. I miss working in general but I really miss working on the Christmas tree lot the most.
Volunteer: What is the hardest thing about living on the streets?
Marvin: Not having a restroom to use so no personal hygiene and lack of communication since I have no phone.
These laundry events Love Shack Compassion Ministry holds make a huge difference to the houseless community; the events not only give them an opportunity to have clean and warm clothes but also gives them time to catch a quick rest in a dry, warm, safe place before heading back out into a city that often experiences cold and rainy weather.
Love Shack Compassion Ministry has a vision to reach the isolated, broken, and hurting people of Portland. The Ministry's goal is to value and care for people outside of the inner-downtown population through a smile, conversation, and comforting words and by sharing warm clothes, socks, sanitary items, sleeping bags, and other basic care supplies.
We want to thank our community of Eco Heroes. With every pack of Eco Sheets purchased, we are able to contribute ten loads of laundry detergent Eco Sheets to organizations that help people of our global community, like Marvin.
We believe that everyone deserves to have clean clothing and bedding. The opportunity to wash their clothes brings hope and independence to those helped by Love Shack.
"When people come in, you see them take pride in folding their clothing and putting it away with care. I know they are feeling productive and good, even if it is just for that day. Please thank everyone [in your community] for all you do […]. This couldn't be happening without your fantastic program. So, from the bottom of my heart, I know I am safe in speaking for our unsheltered friends; thank you!"
- Cindy, Love Shack Compassion Ministry
The next time you pull out an Eco Sheet to start your laundry, think of Marvin and know he may be doing the same because you chose to make a difference when you switched to Earth Breeze.