Another Conspiracy Theory, Or Is Recycling Plastic A Broken Solution?
⭑⭑⭑⭑⭑ 40,000+ 5-Star Reviews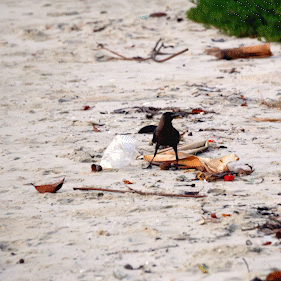 You probably never think twice about tossing that empty plastic laundry detergent jug in the recycling bin, but what if I told you it might not ever really get recycled?
When we break it down, only about 9% of plastic waste truly gets recycled¹, which leaves an unfortunate amount that can wind up wreaking havoc on our ecosystems and innocent animal lives.
In fact, scientists say "the ocean will have more plastic than fish by 2050"!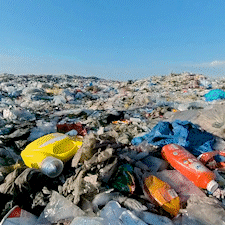 Plastic Pollution Will Continue To Rise, Recycling Alone Will Not Stop It…
The problem isn't going to fix itself. The recycling plan that originally rolled out way back in the 1970's wasn't really a solution, but more of a bandaid.
Big plastic corporations will continue making wasteful products as long as we keep buying, it doesn't matter to them if recycling isn't working as long as they are making money!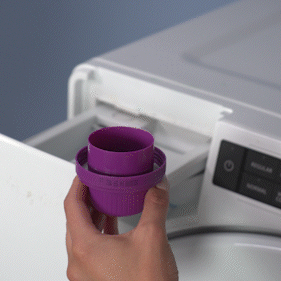 It's Time To Ditch Those Wasteful Bulky Plastic Detergent Jugs Right Now…
Not only are plastic detergent jugs wasteful and contributing to our planet's trash epidemic, they are also incredibly inconvenient.
Because so many people still use those detergents today, millions of those wasteful jugs end up in landfills every single year.
Plastic detergent jugs are also heavy to pick up and lug around, especially for senior citizens…
You're probably wasting time and money every time you use those detergents too, the big plastic caps can be easily overfilled which leads to overuse and ultimately leads to less loads than promised.
These jugs take up a ridiculous amount of space in your laundry room as well…
On top of all that, who wants to support a product that is constantly adding to the plastic waste issue in America?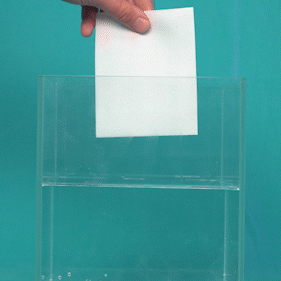 You Will NEVER Have To Deal With Those Wasteful Jugs Again Thanks To This Breakthrough Invention…
Millions of Americans have already made the switch to this genius little sheet!
There's no longer a need for those wasteful plastic jugs because these super concentrated liquidless detergent sheets come packaged in earth friendly cardboard.
This is an Eco Sheet from Earth Breeze and it delivers the powerful clean you deserve without any hassle.
It's hard to believe with all the detergent options out there, like capsules, powders, and liquids - this Eco Sheet is what over 1 million forward thinking Americans trust when it comes to doing their laundry...
Until you understand the science behind it!
Eco Sheets are so powerful due to their unique fast-dissolve technology, along with their super-concentrated formula.
You simply toss an Eco Sheet in your washer (straight into the drum or folded into the detergent compartment) and let the cycle run.
Each sheet comes pre-measured right out of the package, so no more measuring, pouring or spilling that messy liquid laundry detergent ever again.
The sheet dissolves immediately when the water hits it, and turns it into a powerful cleaning solution that tackles tough stains and heavy odors leaving your clothes fresh and clean load after load, without those wasteful plastic jugs.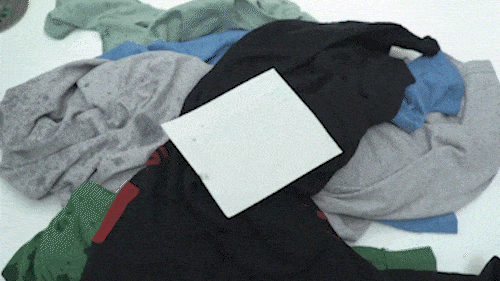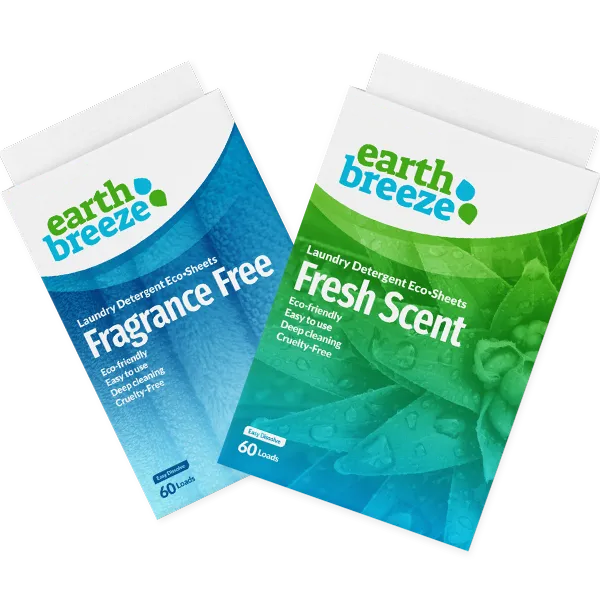 Earth Breeze is running a limited time offer for new customers, Subscribe and Save 40% today!

Never run out of detergent again.

Earth Breeze Is Offering A 100% Money-Back Guarantee…
You can try Earth Breeze completely risk-free.

If you are not 100% satisfied with your purchase, Earth Breeze will refund you… every single penny... no questions asked.
They know the likelihood of that happening is low... and that's because Earth Breeze believes in their product and knows you are going to love how easy and convenient it is to use.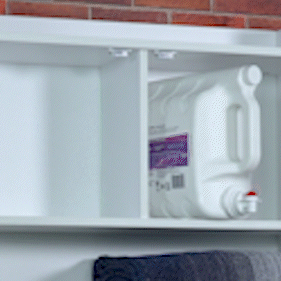 Think About The Amount Of Space You'll Save By Making The Switch…
Earth Breeze believes in being eco-friendly.
Eco Sheets come in slim convenient cardboard packaging, so no more heavy plastic jugs.
A full year supply only takes up about as much space as a single plastic jug of detergent in your laundry room.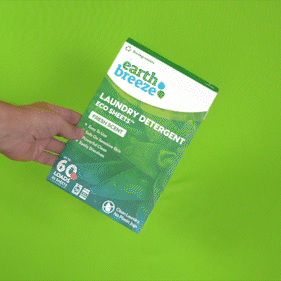 Helping The Environment Has Never Been So Simple…
Earth Breeze is doing their best to be Earth friendly and protect the planet.
Their Eco Sheets packaging is not just more convenient, but also much more sustainable, and eco-friendly.
In fact, some plastic containers can take up to 1000 years to decompose.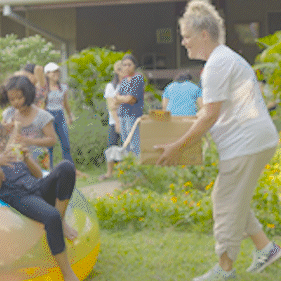 Earth Breeze Puts Their Money Where Their Mouth Is…
Earth Breeze is helping the environment and people in need.
They organize food donations, ocean clean-ups, plant trees, and offset their carbon footprint as much as possible.
They also donate 10 loads of Eco Sheets to one of their partner charities for every single order they get, so make sure you choose your favorite while checking out.
Earth Breeze has already donated over 100 million loads!
They regularly donate to women's shelters, homeless shelters, veterans, animal shelters, and even the global relief initiative.
Get Earth Breeze And Help Put An End To Those Wasteful Plastic Jugs Today!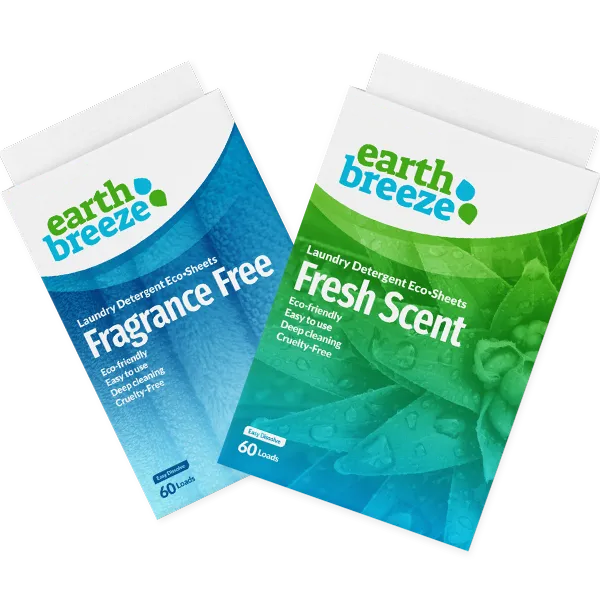 Decrease plastic waste and eliminate messy liquids with these revolutionary sheets.
Each pack contains enough convenient detergent sheets for up to 60 loads of fresh and clean laundry.
Over 2 Million Americans swear by this innovative detergent!

⭑⭑⭑⭑⭑

"I switched and I ❤️ it…"
- Sharon C.
⭑⭑⭑⭑⭑
"It was convenient, and it works. I used it at the laundromat and washed six loads. I threw in one sheet for each load of clothes, it cleaned and removed odors…"
- Janeth R.
⭑⭑⭑⭑⭑
"Very pleased with the scent and ease of use. The space saved and environmental benefits are fantastic…"
- Amy F.
⭑⭑⭑⭑⭑
"I couldn't be happier that I switched to Earth Breeze…"
- Madonna K.
⭑⭑⭑⭑⭑
"Love this! Been using for a few months now…"
- Jennifer H.
⭑⭑⭑⭑⭑
"I love this detergent. I have noticed it pulls old stains from my kitchen towels, and my whites are brighter. I love the fresh smell a lot…"
- Amanda W.
⭑⭑⭑⭑⭑
"I've been very happy with this product and the ease of use for over a year. It takes my dog's odor out of her items and cleans them thoroughly. It's convenient, better for the environment, plus it helps our fur babies…"
- Nancy S.