Detergent Jug Guilt? These Breakthrough "Eco Sheets"Replace Plastic Jugs and Clean AMAZING!
"Love the concept through and through! No more wasted plastic jugs!" - Christina. D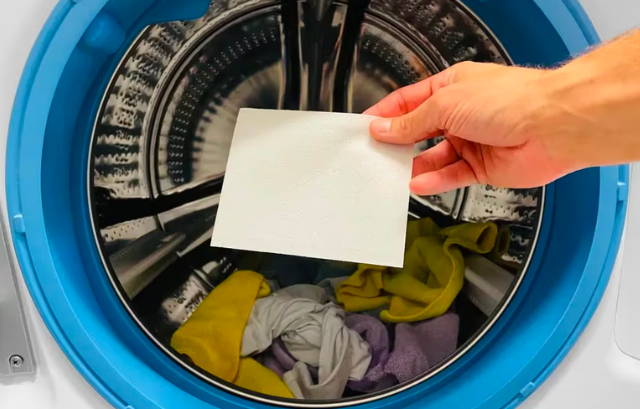 Detergent Jugs May Ruin Our Beaches & Oceans For Future Generations
If you care about the environment, you probably know the shocking facts about plastic.
Each year, roughly 18 billion pounds of plastic enters our oceans.
This is so hard for me to imagine...Poor animals suffering just for me to have plastic jugs in my laundry room?
And scientists warn in just a few decades, our oceans could turn into a plastic soup, not the blue waters we love.
So if we want to secure a better world for our kids, we need to make real changes.
You'll be shocked when you realize just how much plastic we're sold.
The experts are right - we should be cutting these everyday items in our homes to start a cleaner, greener future.
And if you want an easy place to start, look at your laundry room and the big plastic jugs crowding it.
Honestly, it's surprising people still use those massive jugs....
Dragging them from the store to your laundry room? It's like a workout you never signed up for.
And have you ever wondered why those liquid detergent bottles feel as heavy as bricks? It's because the first ingredient is water.
But here's something I didn't know that BLEW MY MIND…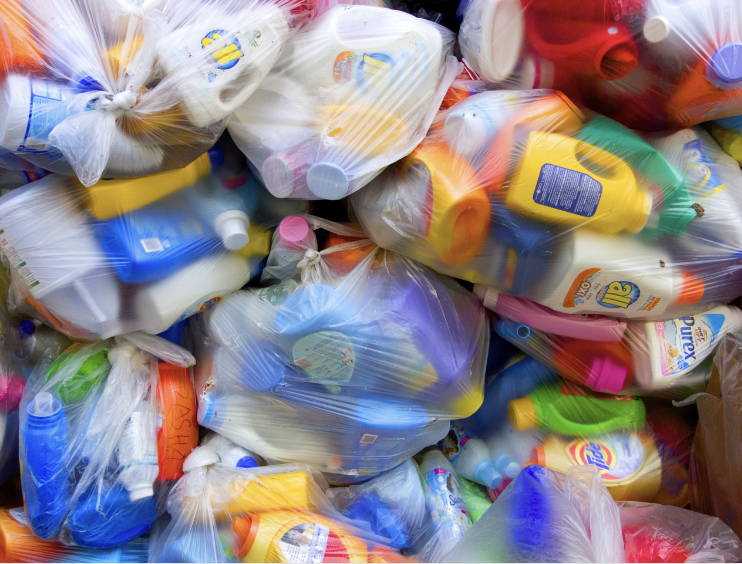 A bombshell Greenpeace report found
91% of plastic is NOT recycled

…
So millions of detergent jugs can end up in landfills every year.
I've been recycling plastic my whole life…
So imagine how
SHOCKED
I was when I found out most of my plastic was going in the TRASH…even though I recycled all my jugs.
I can't lie, this made me mad.
You make all that effort to clean and separate those big plastic jugs for curbside pick up when the reality is…
For every 10 jugs you put in your recycling bin, you'll be lucky if even ONE of them actually makes it to a recycling plant…
The rest? Probably rotting for the next few hundred years in a landfill just like this one: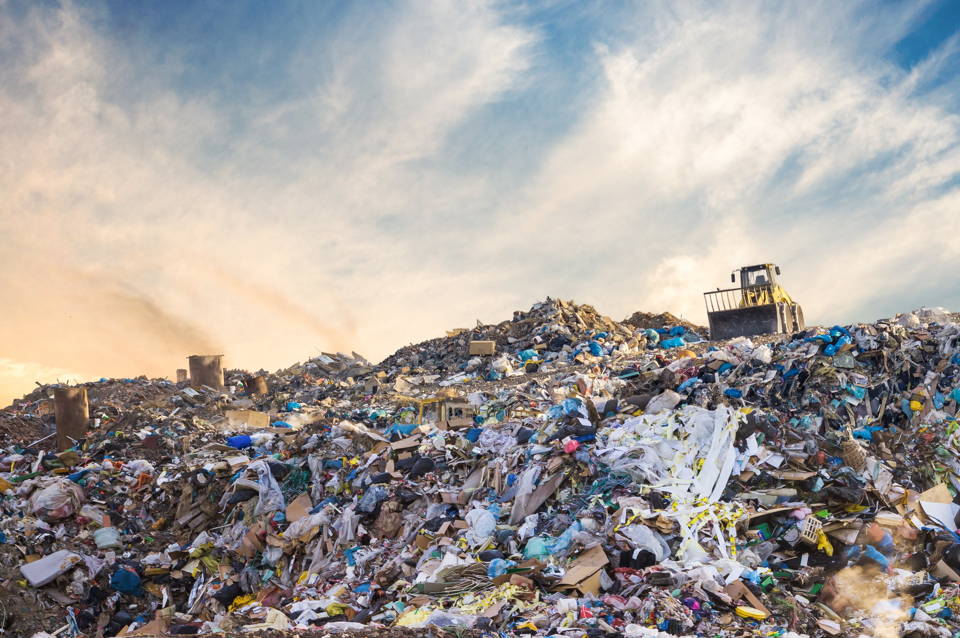 Your laundry jugs could be hiding in landfills
So how can you ditch the heavy jugs and help our planet without compromising clean?
Imagine how good it would feel to say goodbye to those messy bowling-ball-sized jugs...
To switch to something that's actually good for the planet…wouldn't THAT be something to brag about?
You might be thinking squishy capsules or sandy powders...
But if you haven't heard, Americans are fed up with these…
❌ Capsules fail to dissolve sometimes and could ruin some fabrics
❌ Powders are bulky to store and DANGEROUS if inhaled
❌ BOTH often come in plastic containers or have plastic scoops anyway
It's like most detergent companies can't get it right or just don't care. Is it too much to ask for earth-friendly detergent WITHOUT a catch?
So…I was still using those huge plastic jugs – even though I felt guilty every time I picked one up.
Honestly, this was the worst part.
The plastic crisis keeps me up at night…feeling like I had to use those wasteful jugs was heartbreaking and frustrating.
And if you can relate to any of this…let me tell you right now…
It's NOT your fault! Big greedy corporations keep making more plastic for YOU to buy.
They point the finger and tell us we have to recycle more…

But walk into ANY supermarket and tell me what you see...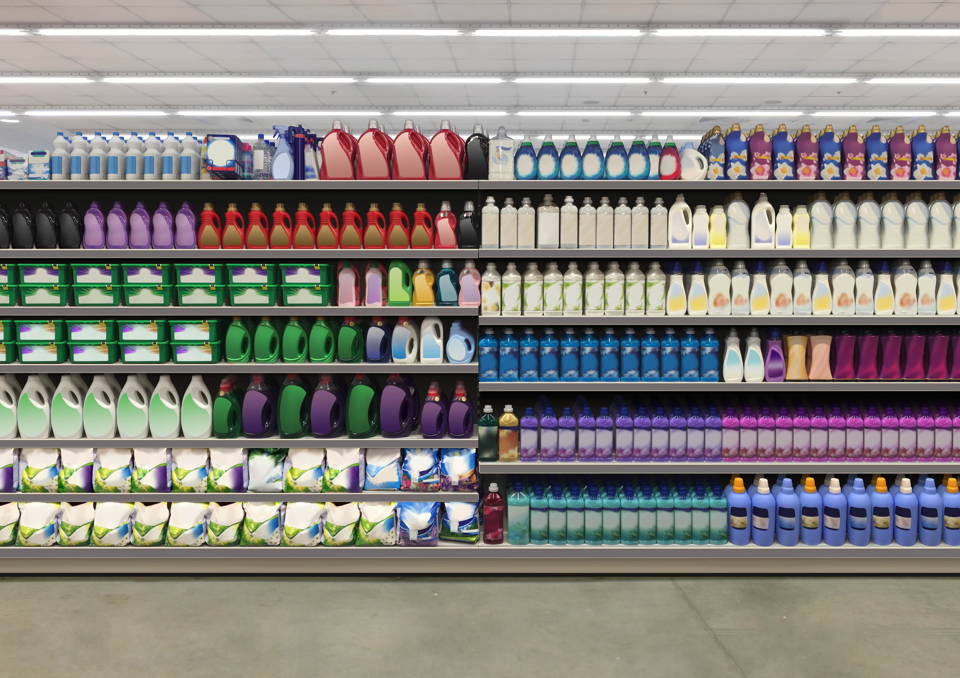 Corporations expect us to keep buying their detergent jugs even though plastic containers are a growing problem
They KNOW you're busy and on a budget.

They know you need clean clothes.

And they definitely know recycling isn't working like we've been led to believe.
Yet they keep selling you plastic jugs to make more money, making you think there's no better way.
But guess what? They're SO

WRONG.
And today, I walk past the laundry aisle with a grin on my face knowing I'll never need their horrible jugs again…
Because I found something better…
Big Detergent is sweating over this tiny invention that has SHOCKING CLEANING POWER and rids you of plastic jugs…
I finally found something that's not only great for the planet but also SUPER CONVENIENT.
Something that DOESN'T come in a plastic jug but still gives you fresh clean clothes.
Something gentle on sensitive skin and perfect for my pets and kids…
Plus, it gives enough loads for a whole year, while taking up less space than a single jug.
And here's the real kicker…
It doesn't just reduce plastic...but HELPS THE WORLD in so many other cool ways that I'll talk about in just a second.
For all of that…You'd probably pay double your old detergent, right? Don't worry – you won't have to. It's actually cheaper than my old detergent!

YOU can join over 2 million Americans Who've Stopped Using Plastic Jugs and Switched to Earth Breeze's Eco Sheets
"I love this detergent. It does a fabulous job takes stains out and smells great! I will continue to use it!"
New Customers Claim 40% Off + FREE, Fast Shipping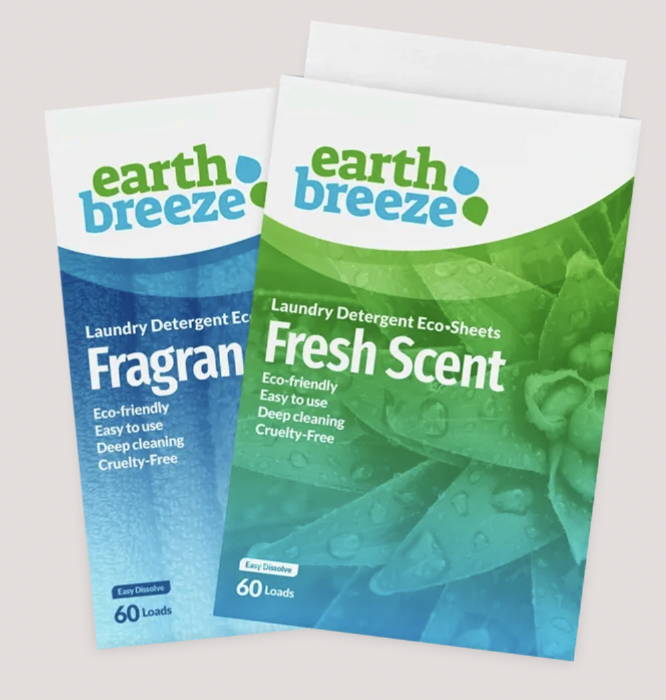 Don't like it? Get a 100% refund. No questions asked.

I didn't believe it at first, but here's how eco sheets work:
I wasn't sure Earth Breeze eco sheets could clean my clothes. But after one wash, I couldn't imagine doing laundry any other way!
The sheets use a fast-dissolve technology. The moment it touches water – hot or cold – it quickly dissolves into a powerful detergent formula to fight tough stains and odors.
It also comes pre-measured, making it super practical. No more wasted detergent or stressful spills.
But what makes Earth Breeze a dream is how EASY the sheets are to use. You just drop a sheet in the washer (in the detergent compartment or drum) and let it do its magic. More convenience, amazing clean, and NO plastic jugs.
I also love how much SPACE eco-sheets save because they come in cardboard packaging. Just one of those tiny envelopes has 60 loads.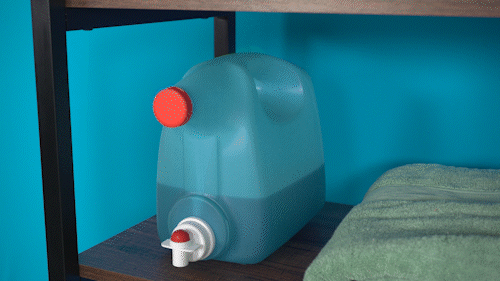 What will you do with all that space?
✅
No more feeling guilty every time you pick up a plastic jug.
✅ No more powdery mess in your machine.
✅ No more bursting capsules
✅ No more supporting greedy corporations
Plus, Earth Breeze is vegan-friendly and contains ZERO phthalates, phosphates, bleach, or dye. They are dermatologist-tested and perfect for anyone with sensitive skin.
But fair warning: the word about Earth Breeze is getting out FAST. With TV coverage and so much internet attention, there's a real chance of it selling out.
It's also extremely hard to find in stores because those greedy brands are stealing all the shelf space with their wasteful jugs…
And even paying BIG money to squash small competitors who just want to give people a choice.
Many savvy shoppers are even bulk-buying 12 months of eco sheets in one go. So I strongly suggest ordering right now, before Earth Breeze becomes overwhelmed with orders.
I was a bit skeptical at first wondering how can a little sheet of paper wash a big load of clothing. To my surprise I tried it and it really worked. I bought the fresh scented one, leaves the clothes smelling nice. Best of off I'm also helping the environment. Thank you for this awesome product and making a believer out of me.
What If I Don't Like Eco Sheets? Can I Get a Refund?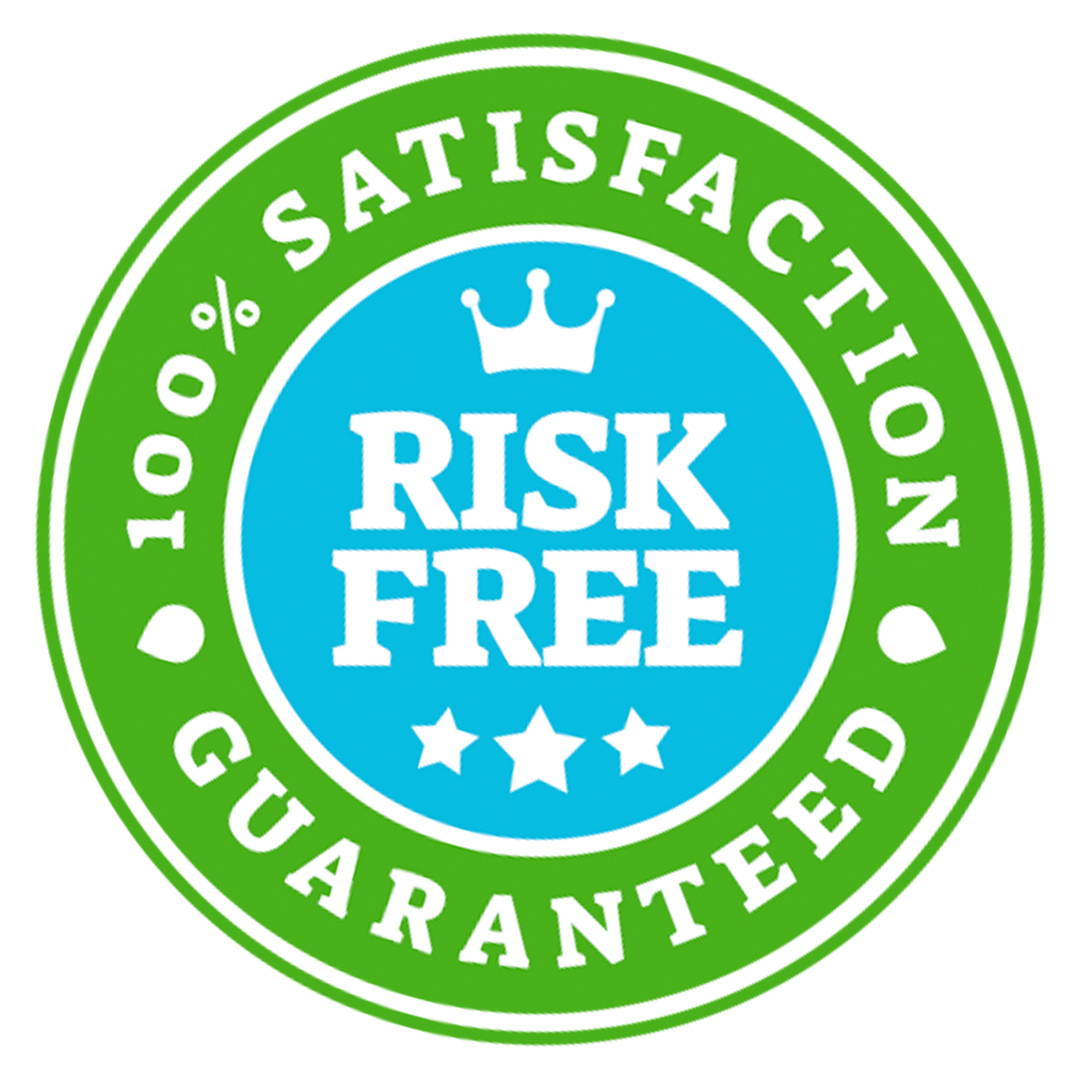 Earth Breeze is so confident in their eco sheets that they are offering everyone a 100% full money-back guarantee.
If you are not completely satisfied with your eco sheets, simply email their 24/7 customer support team.
One of their dedicated agents will quickly get in touch to handle your feedback and you will be refunded every single penny. No questions asked. So rest assured there is zero risk.
However, according to Earth Breeze, very few customers ever regret subscribing.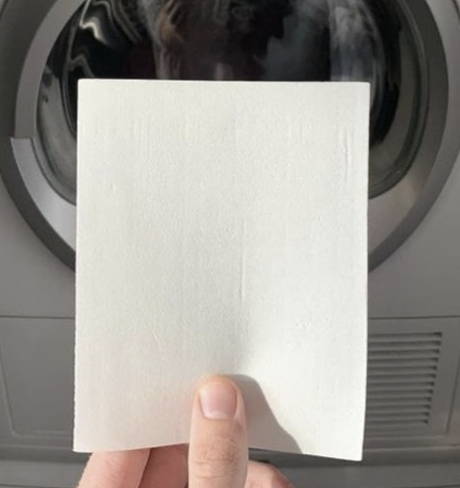 How Do Eco-Sheets Help Fight Plastic Pollution?
Earth Breeze's eco sheets replace your plastic detergent jugs, so you'll NEVER buy a wasteful jug again.
By making this easy switch, you are doing your part. How? By reducing the number of plastic jugs heading to landfills.
You're also helping offset your carbon footprint because Earth Breeze delivers via. FREE carbon-neutral shipping.
You'll also no longer contribute to emissions caused by transporting those heavy water-filled jugs.
In short, using Earth Breeze will save you hassle, space, AND give your clothes a POWERFUL clean –minus the plastic jugs.
Imagine having all that weight off your shoulders…
You'll skip past the laundry aisle knowing you're FREE from ever having to lug a plastic jug home again.
It's the only detergent I can think of that truly has a net positive impact on the world.
With Earth Breeze, you really are a HERO every time you do laundry!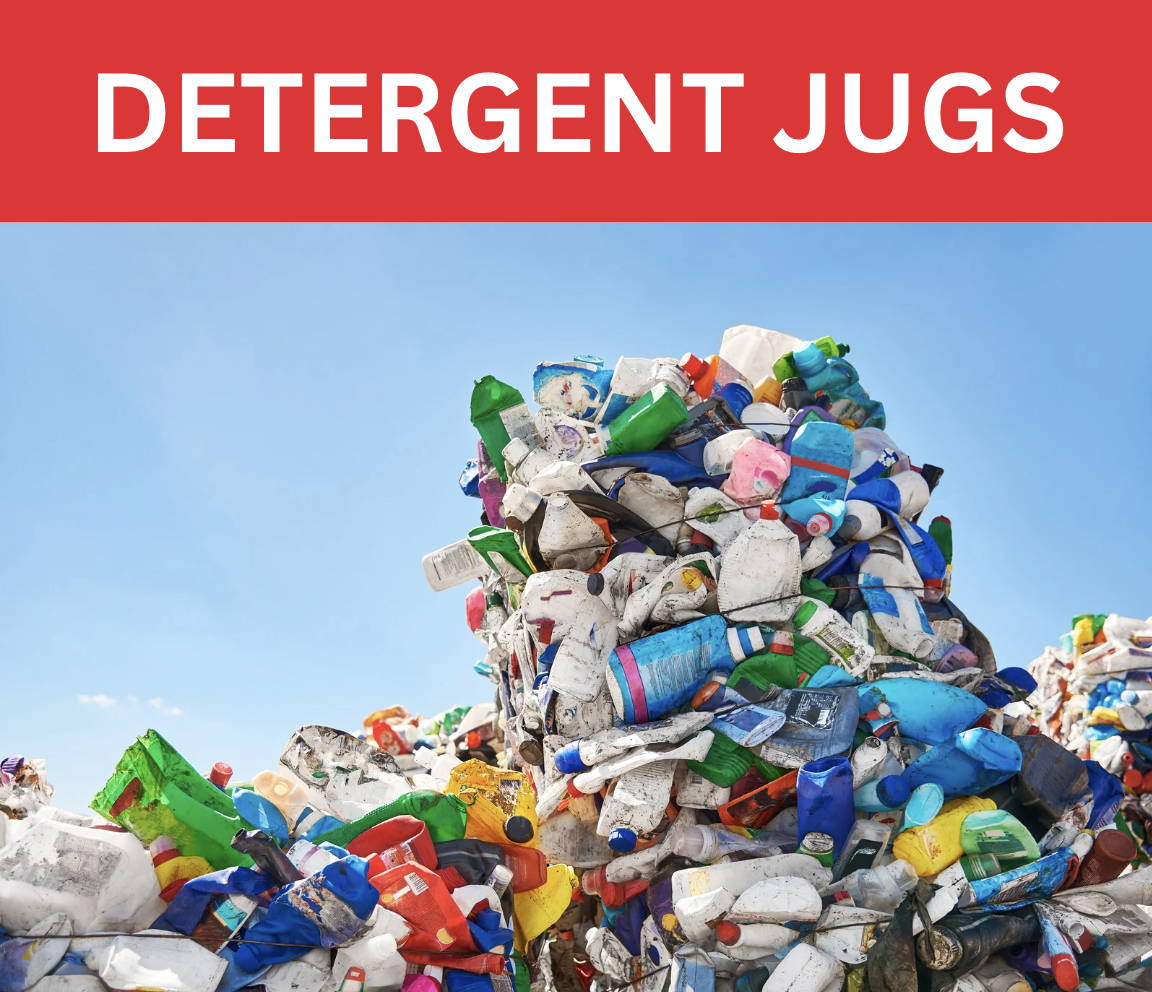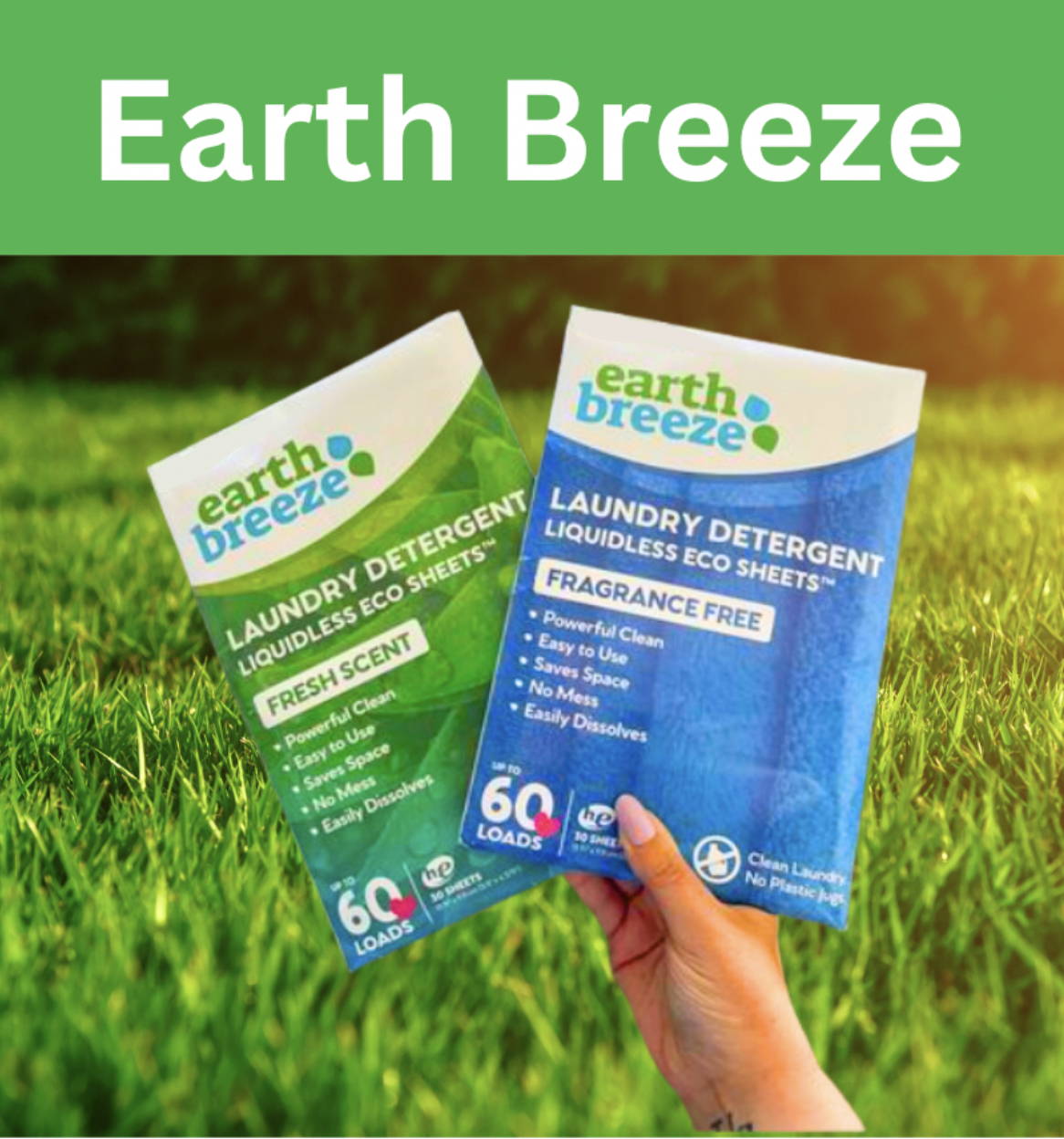 Switching to Earth Breeze can help slow down the amount of jugs entering landfills
But here's what really makes switching to Earth Breeze a no-brainer
A lot of companies claim they care about the planet, but few really mean it.
Earth Breeze is one of the few companies that walk the walk. This is why

millions of Americans are using their eco-sheets.
You see Earth Breeze is actively working to make the world a better place. They organize ocean clean-ups, plant trees, and even donate warm meals to people in need.
Can you think of any other detergent company doing this much? The cool part is, they make sure YOU are involved, too.
Every time you receive your package from Earth Breeze, they donate 10 loads of eco sheets to a charitable cause of your choice – without charging you anything extra.
That's right…YOU choose the donation cause that holds a special place in your heart: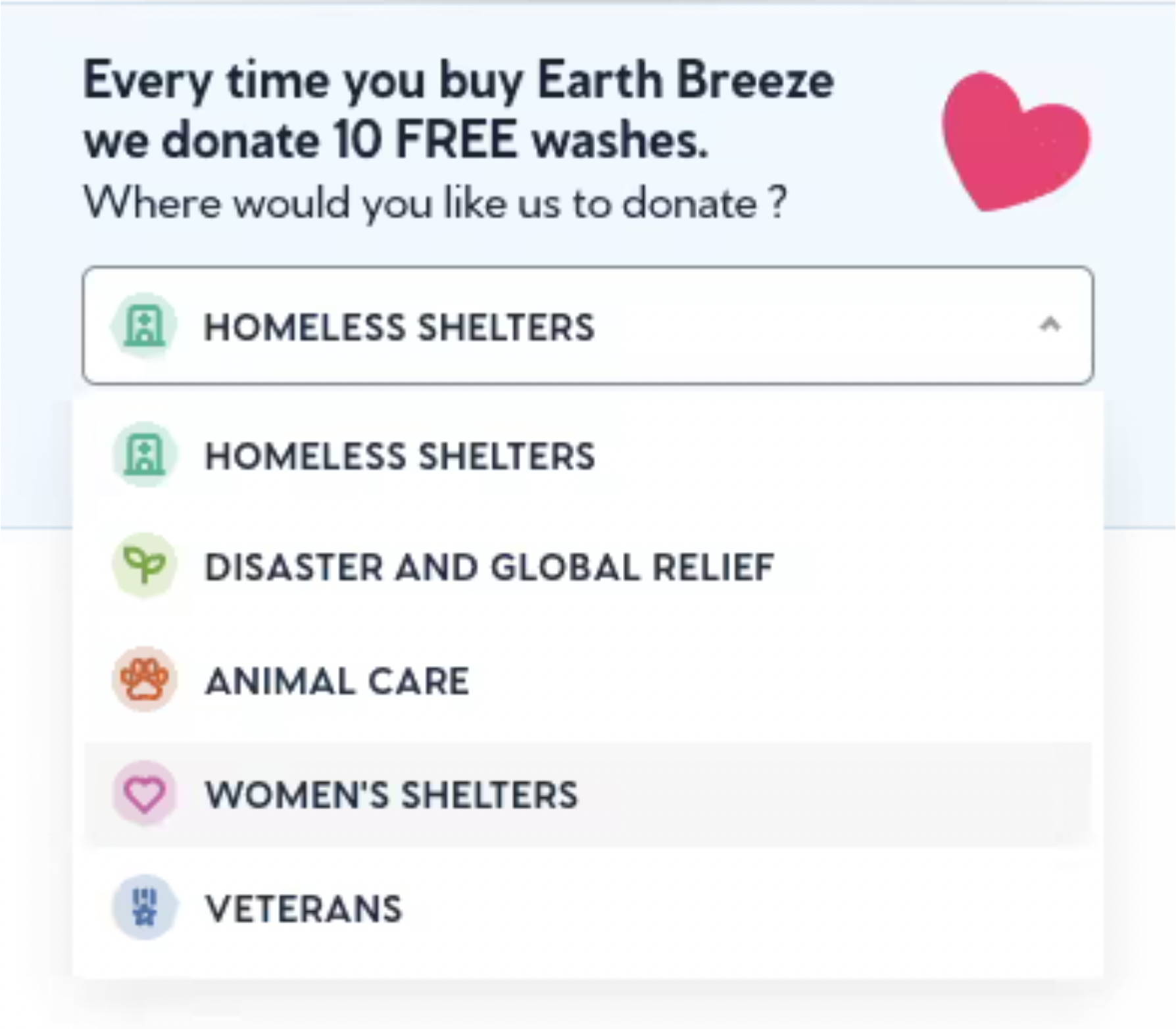 Don't forget to pick the charitable cause you want to support before you checkout!
What other 'Earth Breezers' are saying:
I LOVE this laundry detergent! Easy to use and my clothes come out just as clean compares to any other product I have ever used! I do not have to haul those big containers and then find a place to store them on my shelf. The packages of Earth Breeze take up less space that my dryer sheets! Love everything about this product!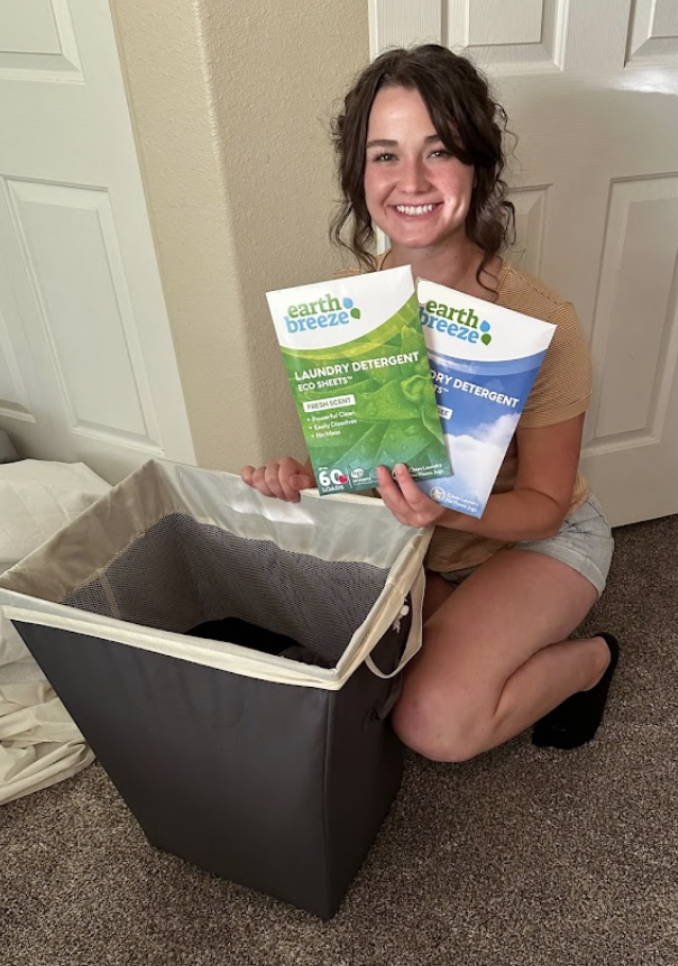 I'm a carpenter so I get pretty messy at work but these sheets get everything out and smell nice. I like that I'm not throwing a big plastic jug in the trash. I like that they give back to shelters and charities, great company. I recommend this to everybody.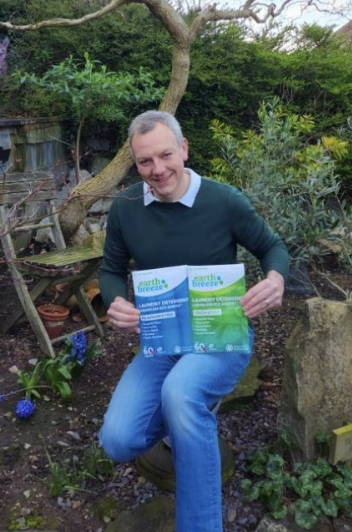 So How Big Is The Difference Really?
Save Space.

Save Money.

Save Our Planet.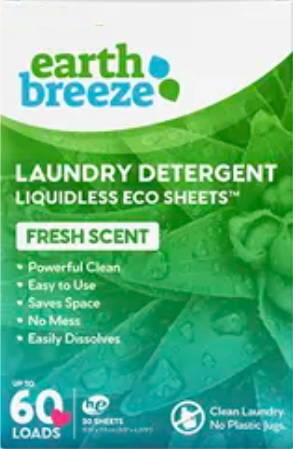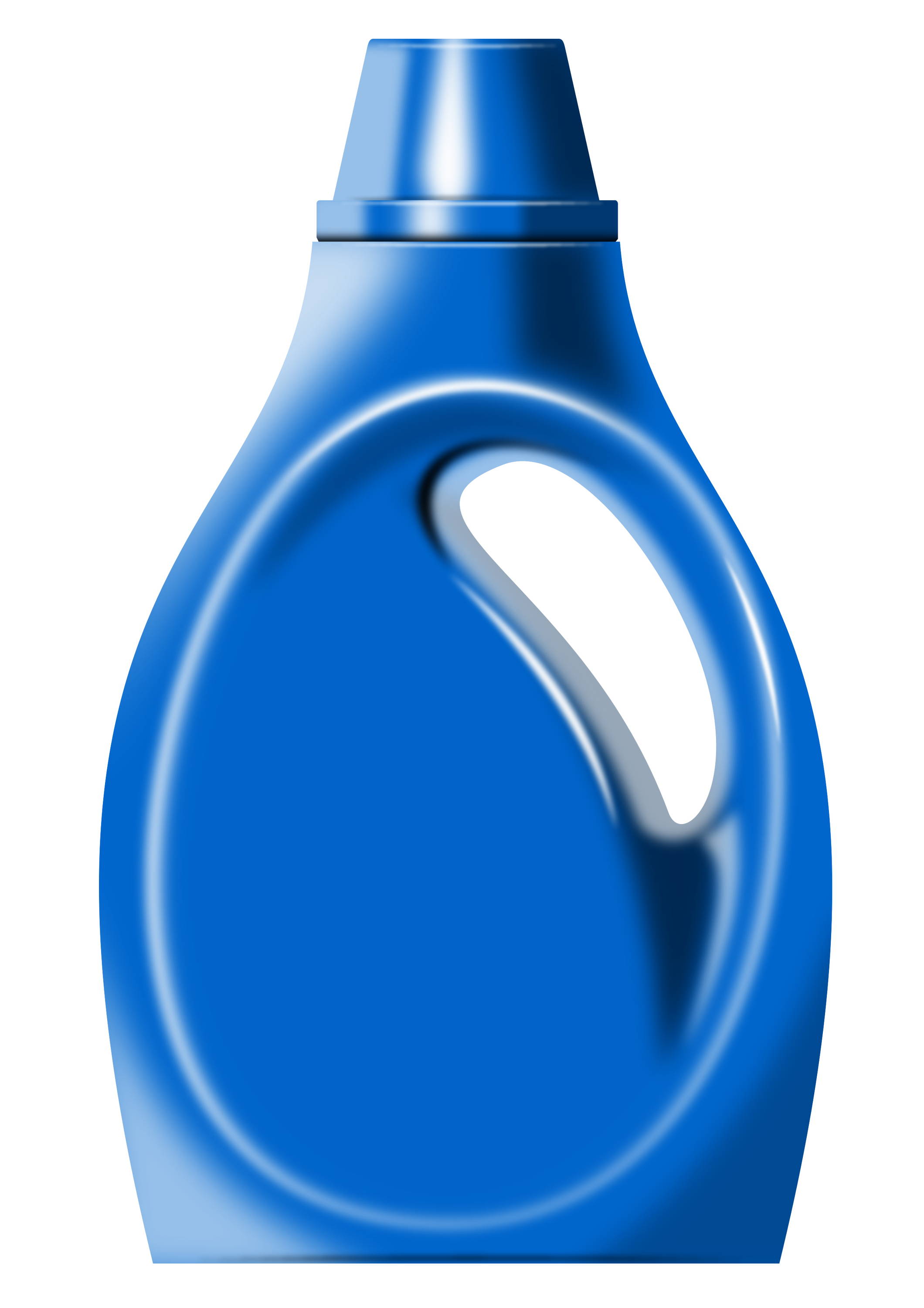 Works in all machines (incl. HE)?
Compact cardboard packaging?
Free of parabens, phthalates, phosphates, bleach, and dyes?
Donates 10 loads to charity per order?

Safe with septic and greywater?
Save money and time by subscribing?










Bulky.
First Ingredient Water.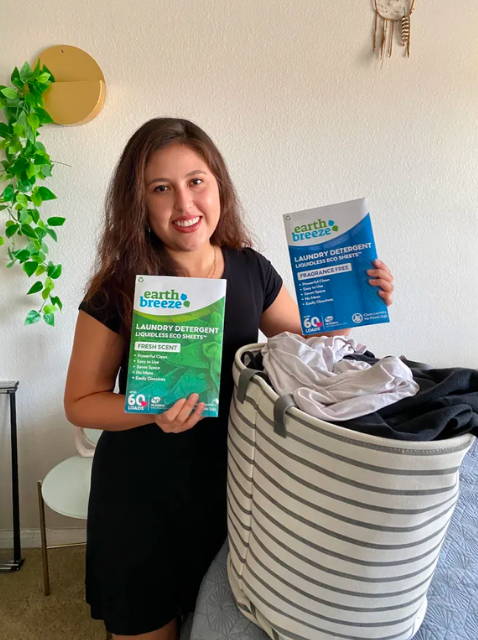 Earth Breeze is offering new customers an amazing deal
Earth Breeze understands why some people might be hesitant. That's why right now, they have a

special online offer.
If you subscribe today, you will GET 40% OFF + FREE SHIPPING! And not just 40% off your first month…

but 40% OFF EVERY PURCHASE of Eco Sheets.
This is by far the most popular option because you get Earth Breeze delivered to your doorstep for FREE and when you need it.
The best part is you have

full control over your subscription

and can make any changes you want in SECONDS. No waiting hours on the phone or annoying back-and-forth emails.
Simply log in to your online account and customize it to fit your needs. Don't need a delivery every month? Change it to every 2 months…or 3…or even 4…just by clicking a button.
Want to try their scented option, or switch to fragrance-free? Done.
So with an offer this good, I can't think of a single reason why anyone would rather stick with those inconvenient plastic jugs that waste time, space and hurt our planet…
BOTTOM LINE:
If you're tired of plastic detergent jugs and want to make your laundry routine easy and less wasteful…
Or you just want to do your part in helping the Earth without sacrificing your wallet or lifestyle…

Earth Breeze is a truly innovative, convenient, and affordable choice you can try RISK-FREE.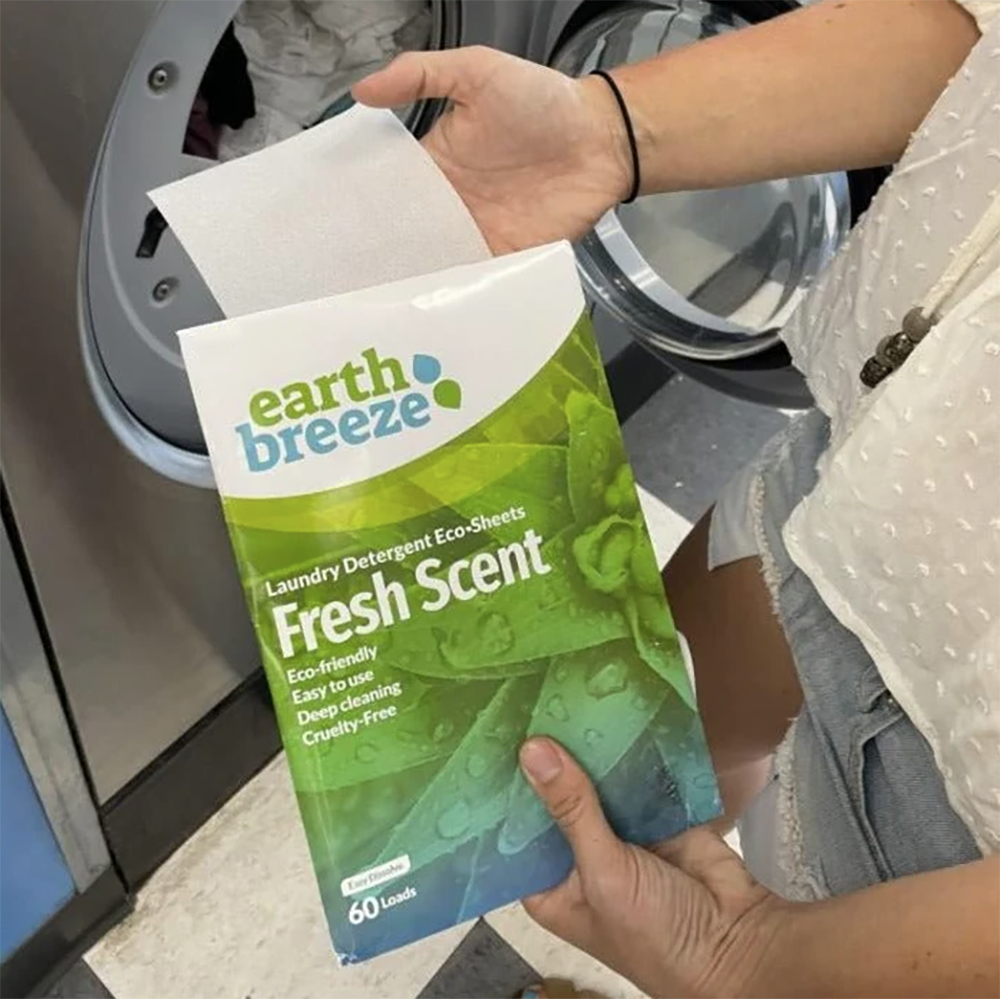 How To Try Earth Breeze Eco Sheets Today
Earth Breeze Eco Sheets are NOT available in most stores and their special online deal can only be found on their official website.
Now that you've discovered how these "planet-friendly" eco sheets can make laundry effortless – without the plastic jugs –

follow these steps to subscribe and claim your discount:
2. Choose how often you want eco sheets delivered (free shipping)
3. Pick which charitable cause you want to donate to and checkout
4. Enjoy your new low-waste laundry routine!
Important Update:
Due to Earth Breeze's growing popularity and TV exposure, this internet offer might not be around forever.
New Customers Claim 40% Off + FREE, Fast Shipping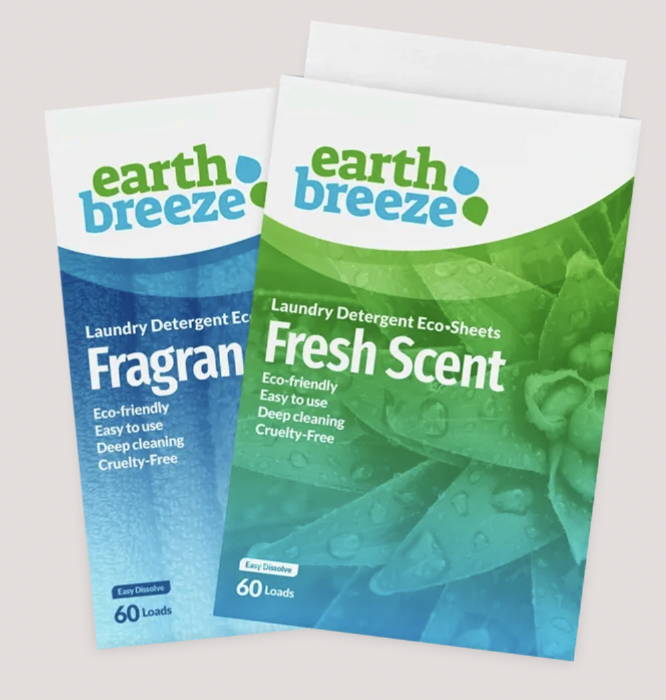 Don't like it? Get a 100% refund. No questions asked.

THIS IS AN ADVERTISEMENT AND NOT AN ACTUAL NEWS ARTICLE, BLOG, OR CONSUMER PROTECTION UPDATE

THE STORY DEPICTED ON THIS SITE AND THE PERSON DEPICTED IN THE STORY ARE NOT ACTUAL NEWS. RATHER, THIS STORY IS BASED ON THE RESULTS THAT SOME PEOPLE WHO HAVE USED THESE PRODUCTS HAVE ACHIEVED. THE RESULTS PORTRAYED IN THE STORY AND IN THE COMMENTS ARE ILLUSTRATIVE, AND MAY NOT BE THE RESULTS THAT YOU ACHIEVE WITH THESE PRODUCTS. THIS PAGE COULD RECEIVE COMPENSATION FOR CLICKS ON OR PURCHASE OF PRODUCTS FEATURED ON THIS SITE.


MARKETING DISCLOSURE: This website is a market place. As such you should know that the owner has a monetary connection to the product and services advertised on the site. The owner receives payment whenever a qualified lead is referred but that is the extent of it.


ADVERTISING DISCLOSURE: This website and the products & services referred to on the site are advertising marketplaces. This website is an advertisement and not a news publication. Any photographs of persons used on this site are models. The owner of this site and of the products and services referred to on this site only provides a service where consumers can obtain and compare.